If you live in Coquitlam, BC, Orange Bins offers bin rental and delivery of dumpster bins right to your home or construction location. Call us today for an immediate solution to your junk, yard waste or renovation debris removal problem.
Whatever your load or loading area, our dumpsters and waste disposal bins come in a wide range of sizes and configurations to meet your needs. Our trucks are able to get into the tightest locations.
Types of Bin Rental & Dumpster Bins Available in Coquitlam , British Columbia
Customers in the Coquitlam or Port Coquitlam area can rent the following waste and disposal bin sizes from Orange Bins.
FREE Delivery with Bin Rental to Coquitlam 
Wherever you are located in Coquitlam, we can deliver a bin rental right to your location. It's fast, easy and delivery is FREE with any bin or dumpster rental!
Get a Quote or Request More Information
To get a quote or request more information on Waste Disposal Bin Rental in Coquitlam or Port Coquitlam, please contact us using one of the methods below.
Phone: (604) 985-4211
Send us a message:
Watch our Coquitlam Bin Rental video
Coquitlam Dumpster Bin Rental
Watch our dumpster rental service in Vancouver.
Dumpster Rental In Vancouver
Coquitlam Bin Rental

How To Rent A Bin
Call Orange Bins to and we can help figure out what size bin, your dumpster rental cost, dumpster price or provide a dumpster prices quote when you place your order.
The dumpster bin rental is delivered to your location.
You fill our dumpster bins with your waste, disposal, concrete, drywall, dirt, roofing, trash, garbage or general junk.
When you are finished loading the dumpster bin, call us and we will pick it up!
It's easy, simple and fast!
Call
604-985-4211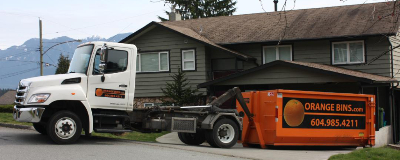 What Our Customers Say
Accomadating and availability of their disposal bin service is great. Rated: 10 out of 10

A. Coughlan - East Vancouver, BC

"Thanks Grant - firstly thanks for actually answering the phone each time I called and taking the time to explain size of your Bins - XX cu ft does not mean anything to me, but you took the time to give me a vivid picture of the choices you offer. Also, thanks for arranging for Richard to deliver the bin at the time I requested and placing bin in exactly the correct position for easy loading and picking up the following day within an hour of receiving my phone call! I am very impressed and told my realtor. Thanks for your professionalism and courteous service which made my ordeal hassle free." 5.0 / 5 stars

Joyce - Burnaby, BC
---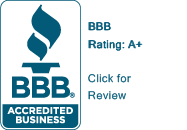 The Better Business Bureau has determined that Orange Bins Ltd meets BBB accreditation standards, which include a commitment to make a good faith effort to resolve any consumer complaints.
---

Insured - W.C.B. - B.B.B.
For same day bin service. Find out more.
Orange Bins Dumpster Rental
3192 Strathaven Lane North Vancouver, BC v7h1g2
Phone: 604-985-4211

www.OrangeBins.com
OrangeBins.com
"Fast service, these guys are good!"